Dermapen

A revolutionary micro-needling treatment to help rejuvenate your skin
If you suffer from unwanted scars, stretch marks, pigmentation, or even just lines and wrinkles that have developed with age, help is at hand. At Bodyvie, we use the advanced Dermapen™ treatment to promote scarless healing and restore your skin to its natural beauty.
Dermapen™ is a revolutionary micro-needling treatment that will help tighten, lift and rejuvenate your skin. It produces similar results to fractional laser treatments, IPL, laser resurfacing and chemical peels, but without the side effects and downtime associated with these more aggressive treatments.
Ideal for treating hard-to-reach places such as around your eyes, nose and lips, Dermapen™ can be used to tackle fine lines and wrinkles, stretch marks, pigmentation, and scars caused by surgery, acne or trauma. Dermapen™ is suitable for all skin types and colours.
Dermapen™ treatment works on the premise that shortly after your skin sustains an injury, the old, damaged tissue dissolves, to be replaced by newly generated skin cells.
Micro-needling harnesses this process in a controlled manner, causing miniscule "injuries" to the skin.These microtraumas then stimulate the production of collagen, elastin and hyaluronic acid, the body's natural skin-healing substances, causing the skin to self-repair on a microscopic scale without the risk of scarring.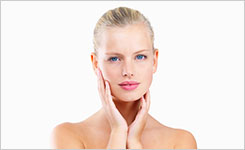 Your Dermapen™ treatment will begin with an in-depth consultation to allow us to understand your requirements. Your Bodyvie consultant then uses tiny, pulsating microneedles to gently penetrate your skin. Following the treatment, your skin will be red and flushed, and it will feel tight and sensitive to the touch. These effects will subside within a few hours, and will be gone 24 hours later.
Arrange to book a consultation and start feeling more confident in your body. 
*Individual Results May Vary
Treatment Summary
Duration of results
12 months
Before & After Image Gallery
Treatment Prices
Treatment
Cost

Stretch Marks (body area)

£

425


*dependant on size. Minimum £425
Frequently Asked Questions
Depending on the nature of your requirements, you may only need a shallow Dermapen™ treatment, which merely tickles. If you require deeper skin needling, we will numb the area with anaesthetic cream to ensure maximum comfort.
You will notice the effects of this treatment after one session, but we recommend a course of treatments for optimal results. We will recommend an appropriate treatment programme to suit your requirements.