Glycolic Peel

Freshen up your skin for a brighter complexion
Are you fed up with your skin looking tired or dull? The good news is that you no longer have to put up with skin that makes you look older than you feel. At Bodyvie, our advanced glycolic acid peels aim to reveal brighter, younger-looking skin for a more radiant complexion that you can feel confident with.
Glycolic peels work by using a special acid solution to remove the superficial layer of dead skin cells on the face, revealing a layer of healthy new skin cells beneath and encouraging cell renewal and growth. The treatment also stimulates the production of elastin and collagen, the two proteins that keep skin fresh and supple.
Your body's natural production of these proteins diminishes with age, which is why your skin becomes drier and thinner as you get older. This peel can also be used to treat acne, as well as diminishing the appearance of fine lines and wrinkles.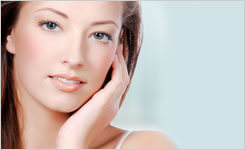 Two weeks prior to your treatment, you will need to use a glycolic product at home; this is purchased separately and available from Bodyvie. Your skin may appear slightly pink following the application of the acid, and you may experience some flaky skin in the two or three days afterwards, although you will be able to apply make-up and resume your everyday activities straightaway.
This treatment is suitable for all skin types. Your glycolic peel treatment will begin with an in-depth consultation to allow us to understand what you hope to achieve from your treatment. Each treatment may vary from one person to another.
Arrange for a glycolic peel consultation and start feeling more confident in your skin.
Treatment Summary
Duration of results
6 months
FAQs
The treatment is virtually painless, but may produce a mild stinging sensation once the acid solution has been applied.
You will start to enjoy the benefits of your glycolic peel after just one treatment, but for maximum results we recommend a course of six treatments, spaced out at weekly intervals. After this, a monthly treatment will maintain the fantastic results of this peel.