Silhouette Threadlift

Lift sagging skin without resorting to surgery
If sagging, wrinkled skin is getting you down, you are not alone. Collagen and elastin are the proteins that keep your skin supple and healthy, but as you get older, the body's natural production of these substances slows down.
The Silhouette Thread Lift is a non-surgical facelift that combats these symptoms of ageing. The treatment is designed to give firmer, smoother skin, fuller cheeks, and a more youthful complexion.
Silhouette Thread Lift is a minimally invasive alternative to cosmetic surgery that helps you achieve results with minimal downtime. It uses biodegradable anchoring sutures to lift and reposition sagging tissue, effectively reversing the effects of ageing. These contain a substance called polyactic acid, which naturally boosts collagen production to give your skin a healthy glow.
The sutures are inserted under a local anaesthetic to a depth of about 3-5mm, using a fine needle, and they will naturally dissolve over time so they do not need to be removed. The effects of stimulated collagen production continue even after the sutures have disappeared, so gradual changes over time can be expected. Results are visible straight after the treatment takes place, and may last as long as 18 months.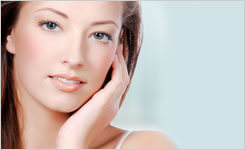 Your Silhouette Thread Lift at Bodyvie will start with a consultation to help us understand your requirements. The procedure itself takes around half an hour, and you will be able to return to your everyday activities soon afterwards. The treatment area may feel a little tight to begin with, and you may also notice slight swelling or bruising after your treatment, but these will quickly subside. Each treatment may vary from one person to another.
Treatment Summary
Duration of results
18 months
FAQs
Using this advanced treatment, we are able to improve your cheeks, cheekbones, lower jaw, eyebrows and neck.
Your Silhouette Thread Lift will be performed under a local anaesthetic for maximum comfort.