Skinade Collagen Drink

What is Skinade?
The multi-award winning anti-ageing collagen drink Skinade contains natural peach and mangosteen flavours. It has a formulation of active ingredients that aim to improve the body's natural production of collagen and hyaluronic acid.
Skinade supplies important micronutrients to aid the rebuild of collagen. The key to normal skin function is hydration, nutrition, protection and regeneration. However, factors such as age, stress and the environment can cause the ageing process to take place. It is a different approach to your skincare routine, it helps promotes better-looking skin from the inside out.
The Skinade Collagen Drink has been developed by leading UK scientists and comes in two versions: 150ml ready-to-drink mixed bottle and 15ml liquid concentrate sachet.
How does it work?
Skinade aims to help restore and support lower layers of the dermis from the inside out resulting in improved skin hydration and reduced fine lines and wrinkles. The dermis acts as a cushion for the body from stress and strain and provides elasticity to the skin.
As a liquid supplement, with a 90% to 95% absorption rate, its advanced formula is bio-available, which means the body can absorb and use higher proportion of active nutrients.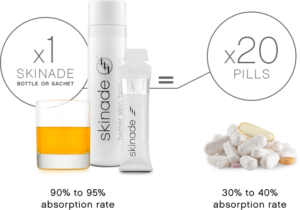 Skinade aims to:
• Reduce oxidative stress
• Prevent cross-linking of collagen fibres
• Increase moisture
• Increase natural hyaluronic acid production
• Improve the way your skin looks & feels in as little as 30 days.
Ingredients used in Skinade
Skinade contains six high quality ingredients, such as Vitamin C, Vitamin B, MSM, Omegas 3 and 6, L-lysine and Hydrolysed Marine Collagen Peptides.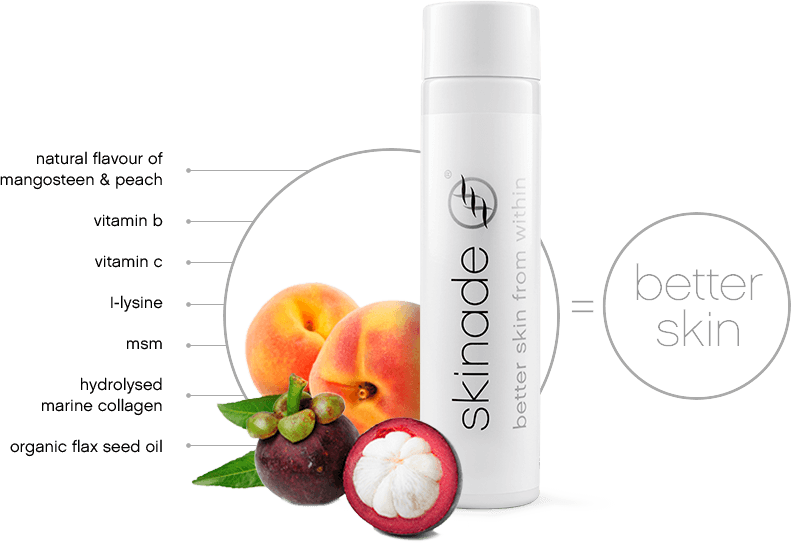 Benefits of collagen
Collagen plays a significant part in the appearance of your skin and how it assists to preserve firmness, elasticity and radiance. Skinade's unique blend are essential for increasing the production of collagen and hydration in your skin.
Skinade results
After completing a course of skinade, you may notice the following:
• Skin has more youthful appearance

• Improved general tone & texture
• Less visible frown lines
• Better skin suppleness
• Reduced fine lines & wrinkles
• Healthier looking hair & nails
The results for each individual will vary dependant on skin type and skin condition.
Before & After Image Gallery