Volbella lip enhancement

Non-surgical treatment for a fuller, natural-looking smile
Your lips naturally lose volume as you get older, which means that your mouth becomes less well defined and can droop at the corners. This can make you look older, which is often demoralising – particularly as fuller lips are a classic hallmark of female beauty.
If you would like to restore volume to smooth your lips and achieve a fuller, natural-looking smile, come to Bodyvie for a Volbella lip enhancement treatment. Volbella lip filler is a highly effective alternative to painful, expensive cosmetic surgery, with far less risk and far fewer side effects associated with it.
Juvederm Volbella is a revolutionary lip filler from Allergan. This hyaluronic acid-based filler is less hydrophilic than other dermal and lip fillers, which means that it absorbs less water and reduces the amount of swelling you will experience after your Volbella treatment.
For this reason, Volbella has far less downtime than other lip fillers available today. What's more, Volbella is specifically formulated to be smooth, soft and long-lasting, and it has greater lift capacity than other lip fillers, enhancing its potential to smooth the contours of your lips and add definition to your smile.
Your Volbella treatment begins with an in-depth consultation to help us understand your requirements. The procedure itself is then carried out by the highly experienced Dr Weber, who will inject the filler directly into your lips. This process takes around half an hour and you will be able to return to your everyday activities soon afterwards.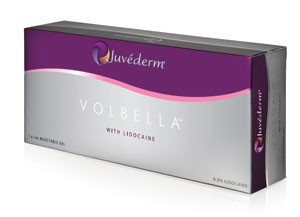 You may experience some redness and tenderness in the treatment area, but this should disappear within a week. We advise avoiding the use of make-up for 12 hours after the treatment, and keeping out of the sun, saunas and steamrooms for a couple of weeks.
Get the lips you've always wanted and arrange a Volbella consultation with one of our experts. 
*Individual Results May Vary
Treatment Summary
Procedure Time
30 - 60 mins
Duration of results
12 months
FAQs
The Volbella treatment is virtually painless, as this filler contains a built-in painkiller called lidocaine.
The fantastic results of your Volbella treatment can last up to a year, though this varies from one person to another.