Dermal Fillers

Bespoke non-surgical treatment to shape & revitalise
Did you know that your skin gets thinner and drier as you get older? That's why ageing results in imperfections such as lines, wrinkles, and sagging skin that make you look older than you feel.
Dermal fillers help to give a safe and non-surgical way to combat these effects. They are designed to subtly restore facial volume, helping to result in tighter, firmer skin and the reduced appearance of lines or wrinkles.
How do Dermal Fillers work?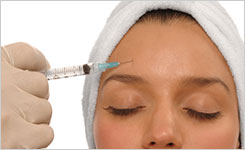 Dermal fillers are typically used to help tackle lines, wrinkles and sagging on any area of the face and neck. Popular areas for treatment include under the eyes, frown lines, forehead furrows and crow's feet. Dermal fillers are also used to help give volume to cheeks and lips, and as a non-surgical way to re-contour the nose. Each treatment can vary from one person to another.
Contact us to book your filler consultation and find out more about how we can help take years off your face.

Treatment Summary
Procedure Time
30 - 60 mins
Duration of results
9 - 12 months
Before & After Image Gallery
FAQs
Your treatment starts with an in-depth consultation, during which you'll be able to talk about your concerns and expectations. During the procedure itself, your qualified doctor will use fine needles to inject filler directly and precisely into the target treatment areas.
It's a quick and virtually painless process, and we may apply a local anaesthetic cream to numb your skin thirty minutes before the treatment starts for maximum comfort. You'll be able to carry on with your day-to-day activities straightaway, and you'll see the effects immediately.
The results of this treatment typically last six to twelve months, varying from one person to another. To enjoy long-lasting results, we recommend repeat treatments at regular intervals.
With this treatment you should have restored facial volume with tighter firmer skin. Other benefits is improved skin tone and a decreased appearance of lines and wrinkles.