Fat Removal

Targeted treatment to eliminate stubborn fat
Are you frustrated by an area of stubborn fat that seems to resist your efforts to exercise and eat healthily? If so, you are not alone. The body naturally stores fat to convert to energy in leaner times, and the cells in which it is stored are difficult to diminish. Using sophisticated fat dissolving injections, we are able to help you eliminate these troublesome areas of fat.
These injections work by targeting localised areas of fat, inserting a solution containing a synthetic version of desoxycholan acid, which is produced naturally by the liver to help the digestion of fat. This operates directly on the fat cell walls, making them unstable and releasing the fatty acids from within them. These fatty acids are then removed by the body's natural defences, metabolised and converted into energy.
Fat reduction procedure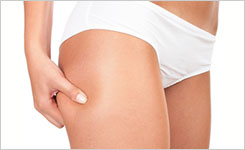 The procedure itself involves injecting the solution into the area of fat using a sharp cannula. There are typically two injection sites for each area of fat, and we add a local anaesthetic to the solution to make the experience more comfortable for you.
To achieve optimal results, most people need between three and six appointments, at four-week intervals, and treatment needs to be accompanied by healthy nutrition and exercise to be successful.
We are able to target fat on any part of your body, with popular areas including double chins, underarms, hips, waist, buttocks and thighs. We can also use this treatment to target pseudo-gynecomastia (fat build-up under male breast tissue) and buffalo humps.
Within the treated area, you can expect to feel a warm sensation, itching, slight burning, slight oedema, and reddening appearance for between one and three days. Each treatment may vary from one person to another.
Book a consultation for fat removal and start enjoying the body you deserve.
Treatment Summary
Procedure Time
30 - 60 mins
Duration of results
Permanent reduction
Before & After Image Gallery
FAQs
You will need multiple treatments for optimal results. Your Bodyvie doctor will advise you on a course of treatment to suit your desired effects.
A fat removal treatment from Bodyvie will help you tackle the areas of fat that no amount of exercise and healthy eating can shift.