Laser Hair Removal in Richmond

Safe & pain-free procedure suitable for all skin types
Daily shaving, painful plucking, ingrown hairs, waxing: surely there is a better way to achieve smooth, hair-free skin? The answer is laser hair removal, which offers you freedom from the chores above.
Laser hair removal is safe and a highly sought-after method of achieving permanent hair removal. The treatment is suitable for all skin types and most even find it virtually painless. We use a revolutionary, multi-award-winning laser for hair removal, which is effective on all different skin types.
Splendor hair removal
Take advantage of our latest technology for results with the revolutionary Splendour system. This is a new safe & gentle laser system that achieves hair removal faster than any other available similar technology in the UK. An exciting Bodyvie exclusive.
We target any area of your body where you have unwanted hair. This includes your face (commonly the upper lip and chin), bikini line, legs, stomach, arms and underarms. The treatment is increasingly popular with men, too. The most popular areas treated for men include the chest, shoulders and back.
Course of laser treatments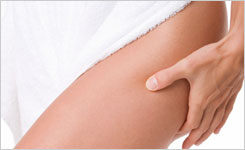 You will need a course of treatments to achieve the desired effect. On average, men require more treatments than women, due to their high levels of testosterone. The number of treatments needed to ensure permanent hair removal varies from one person to another, and your Laser Specialist consultant will advise you on a course of treatments to suit you.
Contact us today to book your consultation and take a step closer to smooth, sensuous skin.
Before & After Image Gallery
FAQs
You will start with an in-depth consultation with your Laser Specialist to discuss your requirements and plan your course of treatments. This virtually painless treatment is quick and comfortable and involves a laser device being moved gently across the treatment area.
It works by penetrating laser energy deep into the tissue to target the hair follicle. The melanin pigment in the follicle absorbs the energy, damaging the structures that keep the hair growing. This causes the hair to fall out over two or three weeks after your treatment.
Laser Hair Removal is virtually painless. However, we advise patients that they might experience some discomfort during the treatment. Some clients describe the sensation as being flicked over with an elastic band.
You should expect to see a reduction in your hair after the first session. However, you will be able to see a clear change after a few treatments. This happens due to the fact that hair grows at different stages. Moreover, if your hair is thicker at the roots it will also take a few more sessions until you will see a considerable improvement.