Laser Tattoo Removal

Don't have to live with a tattoo you no longer love
That tattoo probably seemed a great idea at the time, but what happens if you fall out of love with it? With laser tattoo removal treatments from Bodyvie, you no longer have to live with a tattoo you no longer love. Our advanced technology allows us to remove tattoos on any skin type.
With minimal downtime and maximum efficiency, it is no wonder that our safe and effective laser tattoo removal treatments are becoming increasingly popular. Tattoos don't have to last forever thanks to this advanced treatment, which will undo any body art you may be regretting and help you get your body confidence back.
After a consultation with your highly trained Laser Specialist to discuss your requirements, we will initially need to conduct a test patch to ensure that the laser tattoo removal treatment will suit your skin. If there are no adverse effects after one week, we can get to work on your treatment.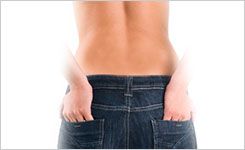 During the treatment itself, your consultant will run a laser device over your skin, emitting short, intense bursts of laser light that gets rapidly absorbed by the tattoo ink. This breaks up the pigment into smaller particles that can then be removed by the body's natural filtering system. The treatment is fairly quick, and we can apply a local anaesthetic cream for increased comfort if you wish.
Contact us today to book your laser tattoo removal consultation and take the first step towards renewed body confidence.
*Disclaimer: Individual results may vary.
Treatment Summary
Procedure Time
30 - 60 mins
Duration of results
Permanent removal
Before & After Image Gallery
Treatment Prices
Treatment
Cost

Area of 5 x 5 cm

£

50


Per Session
Frequently Asked Questions
We can get rid of tattoos on any part of your body.
The number of treatments needed to remove a tattoo completely will depend on the person and on the tattoo, so your consultant will advise you on a tailored treatment programme to suit you.