Mole Removal

Safe & simple procedure for cosmetic mole removal
Mole removal is only available on the NHS when there are concerns about the mole becoming cancerous, but here at Bodyvie, we are able to remove moles for cosmetic reasons as part of our private minor ops service.
You can rest assured that you're in safe and experienced medical hands at Bodyvie, as all minor ops are performed by Dr Weber, who has over 30 years' experience and carries out these procedures on a daily basis.
Moles are usually removed using a shave excision technique, which stays close to the surface of the skin, leaving a small wound that we then cauterise using a laser to prevent bleeding. This procedure lasts about 20 minutes and does not require stitches.
A deeper incision technique called an elliptical excision may be used if a mole looks suspicious, as this removes the mole completely. This technique does require stitches, but these may be dissolvable depending on whereabouts on the body the mole has been removed from.
Mole removal wounds can typically take one to two weeks to heal, but you can return to your everyday activities straightaway. The risk of scarring or complications is very low, and any slight scar that may be left is likely to be significantly less noticeable than the mole itself. Each treatment may vary from one person to another.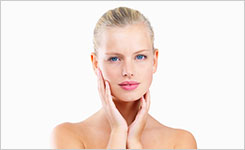 Arrange a consultation.
Treatment Summary
Duration of results
Permanent reduction
FAQs
Mole removal procedures are conducted using a local anaesthetic for minimum discomfort.
For your peace of mind, we will conduct a histological analysis of your mole following removal to ensure that there were no abnormal cells that could cause skin cancer.