Non-Surgical Nose Job

Reshape your nose, the easy way
If you are unhappy with a particular aspect of your appearance, it can have a dramatic impact on your self-confidence. The good news is that you don't have to resort to expensive, painful surgery if you are not happy with your nose. At Bodyvie, our safe, non-invasive and non-surgical nose job treatment can help remodel and reshape your nose, with none of the unpleasant side effects of surgery.
A non-surgical nose job, officially known as a 'non-surgical rhinoplasty', is a highly effective alternative to risky, painful cosmetic surgery. This non-permanent treatment is minimally invasive and can help provide immediate and natural-looking results without the need for general anaesthetic. The effects of this non-permanent nose reshaping last from six months to a year, varying from one person to another.
No surgery nose shaping
The shape of your face changes naturally with age, and the temporary results of this treatment mean that we're able to make small changes over time to maintain a natural appearance.
The non-surgical nose reshaping can help target and correct virtually any aspect of your nose that you feel needs to be improved. We can help fill depressions, raise the tip of your nose or augment its bridge.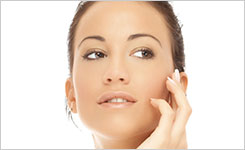 We can help to treat small imperfections and decrease the appearance of bumps, as well as making your nose more symmetrical. We can even correct the results of previous nose treatments if you are not satisfied with the results of a preceding surgical nose job.
Contact us today to arrange a consultation and find out how we can help you get the nose you've always wanted. 
*Disclaimer: Individual results may vary.
Treatment Summary
Procedure Time
30 - 60 mins
Anaesthetic
Local, if required
Duration of results
9 - 12 months
Treatment Prices
Treatment
Cost

Non-Surgical Nose Job

£

450
Frequently Asked Questions
After an in-depth consultation to discuss your requirements, you will receive a local anaesthetic thirty minutes before your treatment begins.
The treatment itself takes just half an hour, and it will be performed by a highly trained Bodyvie doctor using a combination of dermal fillers and wrinkle relaxing injections. You will be able to see the results of your nose reshaping straightaway, and there's minimal downtime.
Non surgical nose jobs are temporary, with results lasting 6-12 months. The temporary nature of the treatment means we can make small changes over time as the shape of your face changes with age.
The advantages of this procedure include ease of reversibility and reduced downtime. This treatment is minimally invasive and can provide a number of immediate, natural results without the need for cosmetic surgery and general anaesthetic.