Scar Removal

Non-invasive treatment to help reduce scarring
Scars can act as a physical reminder of a past trauma, as well as disrupting the texture of your skin and making you feel self-conscious. The good news is that you no longer have to live with a scar you would rather you did not have. At Bodyvie, we have several advanced, non-surgical treatments to tackle unsightly scars.
Scars are typically caused by an injury, surgery, or acne, but stretch marks are also a kind of scarring. Our non-invasive scar removal treatments can be used to tackle a range of different scars anywhere on your body. Depending on the nature of your scar, we will use either laser therapy or micro-needling.
Laser therapy is designed to break down the scar tissue, clearing away poor-quality skin cells and promoting the growth of healthy new skin cells. Micro-needling works by delivering tiny pin-pricks to the surface of your skin, stimulating the production of collagen and thereby harnessing the power of the body's own natural healing system.
Prior to your treatment you will have an in-depth consultation with your Bodyvie aesthetician, who will assess your scar to determine the most appropriate course of treatment. There will be some redness and swelling after the treatment, but this should subside over the course of seven days. Each treatment may vary from one person to another.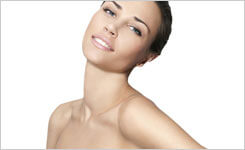 Before & After Image Gallery
FAQs
Both laser therapy and micro-needling are virtually pain-free, and numbing cream may be applied before your treatment to make the experience more comfortable for you.
You will notice an immediate improvement in the appearance of your scar after the first session, but you are likely to need a course of four treatments at monthly intervals to achieve a complete scar removal.