Skin Tightening

Tone and tighten your skin, the easy way
As the years go by, your skin can become thinner and looser, making you look older than you feel. However, thanks to Bodyvie, you no longer have to make do with skin that makes you unhappy. We carry out a safe and highly effective treatment that is designed to tighten and tone your skin.
Our skin tightening treatment utilises Dual-layer Radio-frequency Thermotherapy to stimulate the production of new collagen and improve the surface texture of skin. This works by using radio frequency technology to heat an area of the dermis (the inner layer of your skin), sparking a natural reaction that creates collagen – the substance that keeps skin young and elastic.
The treatment can be used to tighten loose, wrinkled skin anywhere on the body, but it's most commonly used for toning the face, neck and under the upper arms. If you've recently had surgery or given birth, the treatment can also be used to firm affected skin on the abdomen or thighs.
The procedure itself lasts up to 45 minutes. You may experience a slight redness in the treatment area, but this will subside. As collagen production increases following treatment, a steady improvement in the tightness of the skin can be expected. Each treatment may vary from one person to another.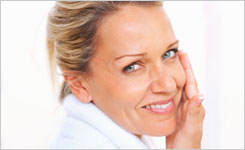 Before & After Image Gallery
FAQs
Patients describe this treatment as feeling like a "warm massage", with little or no discomfort, and no anaesthetic is required. What's more, the risk of any significant side effects is extremely low.
The number of treatments needed will vary depending on what area is being treated, but we usually recommend a course of three to six treatments, spaced out over two to four week intervals.