Dermapeel

A more intensive treatment for younger, brighter skin
Sometimes it takes more than a home exfoliant to freshen up dull, tired-looking skin. At Bodyvie, we are pleased to offer Dermapeel, a powerful exfoliating treatment which is designed to give you a bright, glowing complexion, and encourage new skin cell growth for long-lasting, younger-looking skin.
Dermapeel is a slightly more aggressive treatment that uses a combination of exfoliating techniques, starting with gentle mechanical abrasion and ultrasonic microdermabrasion to remove the superficial layer of dead skin. This initial exfoliation allows for deeper penetration of the glycolic acid solution that is then applied for even more thorough exfoliation.
The combined action of microdermabrasion and chemical peel works to stimulate the body's natural production of collagen and elastin, which are the proteins that help your skin stay supple and healthy. These proteins get to work over time, which means that you might see a steady improvement in the appearance of your skin in the days and weeks after your treatment.
As well as brightening your skin, Dermapeel is also designed to be an effective way of tackling other common skin complaints, such as wrinkles and acne.
Your treatment starts with a consultation with your Bodyvie aesthetician to discuss what you hope to achieve from your Dermapeel treatment. The procedure itself starts with a gentle and relaxing microdermabrasion, and we will then apply the glycolic acid peel.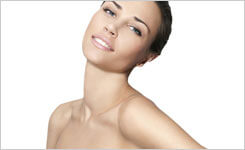 This may leave your skin looking slightly pink immediately after your treatment, but should soon subside, and will be able to go straight back to your everyday activities. You may experience flakey skin two or three days afterwards; this too is normal. Each treatment may vary from one individual to another.
Arrange a consultation today and start your journey towards a fresher and fuller face.
Treatment Summary
Duration of results
6 months
FAQs
The initial exfoliation part of this solution is gentle and relaxing. You may experience a mild stinging sensation when the acid solution is applied, but it is not painful.
You will enjoy the benefits of this advanced treatment after just one treatment, but we recommend a course of treatments at regular intervals to help you gain optimal, long-lasting results. Your bodyvie aesthetician will advise on a treatment programme that suits your skin.