The End of Summer Skin Fix

I see at least one patient seeking treatment for dark patches on their face or an uneven skin tone every day. They are generally women of all ethnicities and all walks of life, but they have one thing in common: Melasma.
Melasma is a common and chronic disorder involving hyperpigmentation of the skin. Sufferers report patches of dark brown to greyish skin often on the forehead, cheeks, upper lip and chin. In fact, melasma derives its name from the Greek " melas" meaning black.
Melasma has been called the " the mask of pregnancy" highlighting the link between changes in hormone levels and the condition. Whilst it has been widely accepted that pregnancy and the contraceptive pill are associated with melasma the exact cause is unknown. We do know that almost 90% of sufferers are women, most have a family history of the condition and exposure to the sun makes it worse.
There is no surprise that at the end of summer, after all the beach holidays and time spent outdoors, patients come in asking about how to get rid of this "sunspot". However images of the skin taken with UV cameras often show that the problem is more widespread than originally thought.
So what can we do to treat melasma?
The most important thing is to recognise that melasma is chronic condition, and that regular treatments are required to make significant improvements.
Prescription based skincare such as the Obagi NuDerm range provides consistent and long term improvements from the comfort of your home. The range is based on tretinoin, a Vitamin A derivative which speeds up the cell cycle and regulates melanin production.
The other big hitter is hydroquinone which reduces melanin production. I've seen Obagi work miracles, but there can be some peeling in the first week and results can take a couple weeks to be noticeable.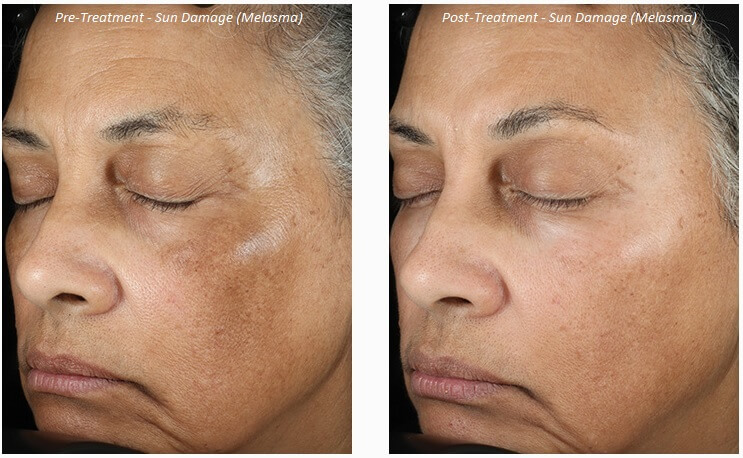 For clients who have milder melasma or for people whose lifestyle doesn't fit with a skin care regime, I recommend a course of Vitamin A peels. This is a medical grade treatment using Trans Retinoic Acid. This other derivative of Vitamin A removes old discoloured skin cells and controls melanin production. These are quick, painless and regular treatments are likely to keep the pigmentation at bay.
The start of autumn is the perfect time to nourish your skin and correct any damage that accumulated over the summer months. Please don't suffer with melasma when we can help.