CACI Facial and Body Treatments

The premier non-surgical aesthetic treatment system
Are you unhappy with lines and wrinkles on your face? Or perhaps you wish your body was a bit more toned, or free from unsightly stretch marks or cellulite? For these problems and many more, the versatile CACI Ultimate has the answer. This remarkable system is considered the premier non-surgical aesthetic treatment system and it works wonderfully both on its own and in conjunction with other cosmetic treatments, such as wrinkle injections and dermal fillers.
Popular with both women and men, it can transform your face and body using a variety of anti-ageing treatments, without the need for expensive, painful cosmetic surgery.
CACI Ultimate is the very first treatment system to combine the benefits of microcurrent, facial toning, crystal-free microdermabrasion and LED light therapy photostimulation. This allows us to offer you the full range of non-surgical cosmetic treatments, tackling virtually every aspect of your face and body that you might be unhappy with.

Among other things, we use CACI Ultimate to smooth out wrinkles and lines, tone your face, rejuvenate your hands, hydrate sun-damaged skin, reduce the appearance of stretch marks and banish acne and other blemishes.
The CACI Electro Cellulite Massager helps us to make a dramatic improvement to the appearance of troublesome, diet-resistant cellulite, while the system's clever microcurrent toning phase utilises specific waveforms and ultra-low frequencies to work in harmony with your body's own bio-electrical field to help your face become firmer.
CACI's unique wrinkle comb applicator combines the synergy of LED red and blue light therapy stimulation and a high-frequency microcurrent, providing a needle-free alternative to collagen injections and dermal fillers. This can make your skin plumper and can soften even the deepest of lines and wrinkles for a younger, revitalised appearance.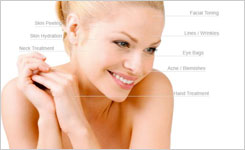 Choose from non-invasive facial treatments including the CACI Non-Surgical Facelift, the CACI Ultimate Anti-ageing Facial and the CACI Eye Lift, or choose the CACI Electro Cellulite Massager to reduce stubborn cellulite. You will need a course of CACI treatments to gain maximum benefit from this revolutionary treatment system.
Book to arrange a CACI consultation today for younger skin without the need of surgery. 
*Individual Results May Vary
Treatment Summary
Procedure Time
60 - 90 mins
Duration of results
3 - 12 months
Treatment Prices
Treatment
Cost
Package of 10
Time

Caci Facial

£

75

£675
60mins

Caci Ultimate


Non-Surgical Facelift
£

95

£855
90mins

Caci Eye Lift

£

40

£360
30mins
Frequently Asked Questions
CACI solutions are non-invasive therefore the pain is minimal.
CACI relies on a number of techniques making it incredibly versatile. It is mainly used for the face and provides relief from sun damage, stretchmarks and acne. This non invasive treatment also helps plump out and soften deep lines and wrinkles.
CACI ultimate uses a number of technique so it is used for many things. It combines Microcurrent, LED light among others to offer a non-invasive and pain free solution to better skin.