Endermologie

A 100% natural treatment for skin fitness
Endermologie is brought to you by LPG, the world-leader in cellular stimulation. It uses micropulsation to create a delicate tissue wave that gently stimulates your skin. Pulsation frequency and suction strength can be varied according to the results you are looking to achieve. This mechanical stimulation can be used to give you a clearer complexion by improving blood and lymphatic microcirculation, which can be affected by stress, pollution and smoking. Improved circulation means that the body is more effective at draining away the toxins that can accumulate to rob skin of its lustre.
Endermologie has a wide range of applications and can be used to treat different skin areas. Bodyvie is one of the few UK clinics to offer the most advanced Endermologie system – the new Endermolab, which has both face (Endermolift) and body (Endermologie Lipo Massage) applications.
Endermolift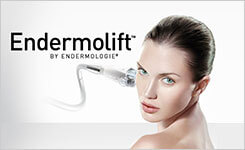 Is your skin making you look older than you feel? Endermolift is a 100% natural anti-ageing technique designed to reduce the visible symptoms of ageing, fill in wrinkles, redefine facial contours and clarify your complexion. Endermolift reorganises collagen fibres to promote natural healing, filling in wrinkles from within for visible, long-lasting rejuvenation. Similarly, Endermolift can be used to firm up sagging skin for improved facial contours and definition.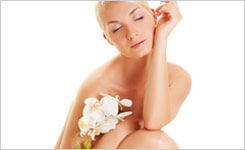 Endermologie Lipomassage
If you are looking for a non-invasive treatment to lose stubborn fat whilst revitalising skin at the same time, Lipomassage is the right treatment for you. Lipomassage is designed to help you get rid of stubborn fat and target those hard to lose fat areas. Lipomassage works by using independent motorised rollers that gently massages the skin tissue to get rid of fat deposits, revitalise blood and lymphatic circulation and reactivate lipolysis. As well as helping to banish fat deposits, Lipomassage also stimulates collagen and elastin production to refirm sagging skin and improve skin definition.
Arrange to book your Endermologie consultation and get this two in one treatment. 
Each treatment may vary from one person to another.
Treatment Summary
Duration of results
6 - 12 months
Treatment Prices
Treatment
Cost
Package of 5
Endermolift Face

Eye Treatment

£

25

£110

Face Treatment

£

55

£245

LPG Endermologie Liftmassage


with Opera LED Light Therapy
£

105

£495
Treatment
Cost
Package of 10
Endermolab - LPG Lipomassage

Body

£

70

£400
Package of 10 (3 month usage period)
Package of 12 (12 month usage period) for £600 also available
All sessions last 45 minutes
*Endermologie suit £17.50 to buy or you can rent for £2 per visit
Frequently Asked Questions
Endermologie targets localized fat exactly where you need it. This process helps fat be removed more easily. It also helps skin become visibly firmer with better tone.
We recommend an initial course of ten treatments to ensure maximum success from Endermologie, and these should be spaced out at fortnightly intervals. After this, you simply have maintenance sessions to retain the fantastic benefits of this treatment.
Endermologie is a relaxing treatment that can take 45 minutes to complete.