Embodying this ethos perfectly is a TV personality, Anthea Turner, a Bodyvie client who exudes vibrancy and beauty (inside and out). We are delighted that she shares some of her tips on ageing with us…
Bodyvie: You look incredible, and we can't believe you're 56! How much does looking youthful and polished mean to you?
Anthea: It means a great deal, like I'm sure it does to most women – we always feel so much better when we look the best we can. I do admit it takes a little bit longer as we get older, but I have a few tricks that really help with that.
I have my eyelashes dyed regularly, and I also have semi-permanent makeup in the form of a very thin line close to my upper lashes; it makes a huge difference and saves time with makeup.
I only ever wear mineral makeup from PUR or Jane Iredale now, as it suits my skin type and has some sun protection. I also love all the lip-plumping glosses from Studio 10 – they really seem to know what women of a certain age need from their makeup.
Bodyvie: You've been very open in the press about breast augmentation and Botox, and we find that refreshing. So many women in the public eye put their pert boobs, full lips and smooth skin down to 'great genes'. How do you feel about Botox, and what would you advise somebody thinking of having it done?
Anthea: When you look at a lot of celebrities, most have had a little something done, whether nonsurgical or surgical – they have access to the best products and treatments available, so sure, they are going to look fabulous.
And if we need a little bit of help, why not? As far as Botox is concerned, I strongly believe in doing lots of research, not cutting corners and going to the best doctor you can find. Your face and body are too important to go for a cheap fix, and I truly believe that cheap deals invariably lead to problems.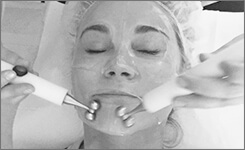 Bodyvie: What is your favourite non-surgical treatment and why?
Anthea: I've been going to Bodyvie for two treatments – CACI and Endermologie. I've had CACI treatments since the 90s, when they first came out, and have always stuck with them because they give such great firming and lifting results.
As technology has improved, the latest version of the treatment, CACI Ultimate, combines so many other elements to improve the complexion. Apart from firming and lifting, it comprises microdermabrasion and LED light therapy, and it's a must-have before a night out as it leaves the skin really firm and glowing.
Endermologie works by giving those cellulite-prone areas a really deep massage, draining away toxins and stimulating circulation. It's a great pre-summer treatment, but I get it done whenever I'm feeling sluggish and want to perk up my body.
They're my favourite clinic treatments because they work for me and are something I couldn't do for myself at home.
Bodyvie: What is your daily skincare routine?
Anthea: I haven't got a very extensive at-home routine, and I keep it simple by washing my face with a gentle cleanser and then moisturising. Since discovering Dr Andrew Weber and Obagi, both pharmaceutical-grade skincare lines, I've incorporated these into my routine. I'm particularly fond of their products with Vitamin C, which I feel has improved the texture and brightness of my skin.
I also love Heaven Skincare by Deborah Mitchell, so I switch it up now and then as I think it's good to give the skin a change every few months.
Bodyvie: Have you had any particular skincare problems as you've aged, and how have you dealt with them?
Anthea: My skin type is quite fine and normal, so I haven't really suffered from any particular problems, though I am one of those women who go red very quickly in the heat. This means I make sure I'm always wearing SPF and a hat when there's a bit of sun.
In my early fifties, I noticed my skin wasn't looking as good as usual, and this came along with mood swings and lacklustre hair, but as soon as I started taking HRT, I bounced straight back to feeling and looking like me again.
Bodyvie: Leading a busy life, it's essential for well-being and health that you take time to switch off. How do you relax?
Anthea: I tried meditation, but it didn't do much for me as I couldn't switch off the to-do list that was running through my mind, but I find that taking my stress out in the gym works for me. And being organised prevents stress too.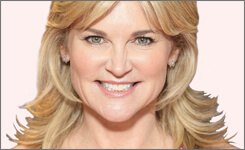 Bodyvie: We can tell you to work out as you're in great shape – are you a gym bunny?
Anthea: Not as much as I would like to be! It feels as if there aren't enough hours in the day sometimes. I try to go when I can, but like most of us, I feel I should do more.
I am naturally a slim size 8 and that's quite light for my height of 5ft 6, but I believe that our size, shape and looks are 75% genes and 25% what we do with ourselves. I may be naturally slim, but I work with what I've got and don't abuse my body.
Bodyvie: Do you follow a particular diet?
Anthea: I'm fairly sensible and enjoy eating healthy, but I also love a couple of glasses of lady petrol (wine!), but I try not to have more than that as apart from the health implications, it makes me fall asleep. And I adore chocolate but see it as a treat. Everything in moderation is a really important lesson.
Bodyvie: Do you combine any particular supplements with healthy eating?
Anthea: I do find Rejuvenated Collagen Shots help give my skin and body a healthy boost. As we begin to lose the collagen that keeps our skin firm from our mid-20s, I like to think that taking these shots is helping to keep mine topped up!
I also have an intravenous drip at Reviv every now and then to replenish minerals and vitamins that get depleted during strenuous times – or after a run of nights out!
Bodyvie: We're really enjoying your new lifestyle blog full of great tips and tricks for the home.
Anthea: Thank you! It's great to have a platform where you can write about your projects and the things that interest you – and hopefully, my advice helps others too. I think my home de-cluttering tips are well received because many of us are tempted to hang on to things we don't need.
Bodyvie: We think prevention is better than cure, so what beauty advice would you give 20-year-olds who want to look great as they age?
Anthea: Put out the fags and get out of the sun! Honestly. Smoking and laying out in the sun for long stretches is the quickest recipe for ageing.
I enjoy the sunshine as much as anyone, but I ensure I'm well protected with a high SPF and limited exposure. A doctor once told me that smoking and sunbathing are like burning yourself from the inside out. So please don't do it!
Thank you for sharing your beauty tips with us, Anthea!
Love Bodyvie xx