Body Sculpting

Non-surgical treatments to help give you a body shape you're happy with
Are you frustrated by the shape of your body? Perhaps there are areas of fat that you find impossible to shift, or muscles that you feel could be better defined. Not everyone is prepared to take the risk of having surgery to achieve a body shape that they feel happy with, but luckily there are plenty of non-surgical solutions available to assist contouring your body and boost your self-confidence.
At Bodyvie, we have a range of body sculpting treatments designed to help you achieve the look you want, without the need for painful, expensive cosmetic surgery. Our treatments make use of innovative therapies that help tighten your skin, remove cellulite and dissolve stubborn fat.
To tighten your skin, we use Dual-layer Radio-frequency (RF) Thermotherapy, which penetrates your skin to stimulate collagen production, resulting in smoother, firmer skin. This is a highly effective treatment that alleviates sagging and wrinkled skin, making you look younger and healthier.
Fat-dissolving injections tackle areas of fat that even exercise and dieting are unable to eliminate, utilising a synthetic acid and your body's natural defences to break down and remove fat cells. Complementing these treatments, cell stimulation using a relaxing lipomassage system helps get rid of cellulite. At the same time, this gentle treatment revitalises circulation, prompting natural fat removal and the production of collagen and elastin, which keep your skin supple.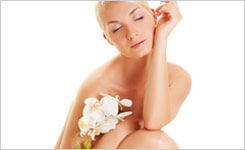 Prior to your treatment, you will have an in-depth consultation with your Bodyvie aesthetician, during which you will be able to discuss your requirements and we will produce a tailored treatment plan to help you achieve optimum results.
Get the results your body deserves in a non-invasive way and book a consultation today. 
*Disclaimer: Individual Results May Vary
Treatment Prices
Treatment
Cost

Body Sculpting

£

70


(per treatment)
Frequently Asked Questions
Body sculpting treatments are pain-free, and some are even relaxing. Fat removal injections can be administered after a local anaesthetic has been added to keep discomfort to an absolute minimum.
A course of treatments is normally required to achieve the best results from all body sculpting procedures. For Dual-layer RF Thermotherapy and fat removal injections, most people need between three and six sessions at two to four week intervals. For cellulite removal, as many as ten sessions may be necessary.