Stretch Mark Removal

There is a way to get rid of unsightly stretch marks
Most people are affected by stretch marks at some point in their lives, but these unsightly blemishes can leave you feeling demoralised and lacking confidence in your body. At Bodyvie, we endeavour to reduce the appearance of unsightly stretch marks and help you achieve smoother, tighter skin.
You may be surprised to learn that a stretch mark is actually a type of scar, which develops when the underlying layer of skin, the dermis, is stretched beyond its normal tolerance. This leads to the fibres within your skin being severed, which in turn stops the production of collagen in this area and results in white strips of scarring.
We have several different stretch mark removal treatments available, including laser therapy that penetrates your skin with highly targeted laser heat to disrupt the molecular bonds between skin cells around the scar. This stimulates the production of collagen, which naturally gets to work at getting rid of the stretch mark.
Another method we use for tackling stretch marks is micro-needling, which uses very fine needles to gently pierce the skin, again sparking collagen production and promoting natural healing. Both this treatment and laser therapy also promote elastin production, which is what leads to smoother, more supple skin. Recovery time is minimal, but you are likely to need several sessions to see a complete removal of your stretch marks. Each treatment may vary from one person to another dependant on the scar and patients requirements.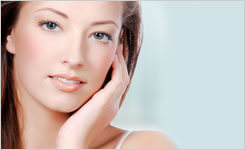 FAQs
We can treat stretch marks anywhere on your body. The most common areas for treatment are the abdomen, thighs, buttocks, hips, arms and lower back.
Discomfort from either laser therapy or micro-needling is minimal. The procedure will leave the treated area red and inflamed, but this will subside within a few days.